The Village House by Singgahsana is located in Santubong Village, 31 kilometers from Kuching, capital city of the state of Sarawak. Santubong Village boasts of a rich cultural and historical legacy; from the 9th to 13th centuries, during the Tang and Sung dynasties, Santubong was one of the premium trading centres in the region and was the first capital of Sarawak. The village boasts of beautiful untouched beaches and numerous archeological sites including Bongkissam, Bukit Maras, Sungai Jaong, Sultan Tengah Mausoleum.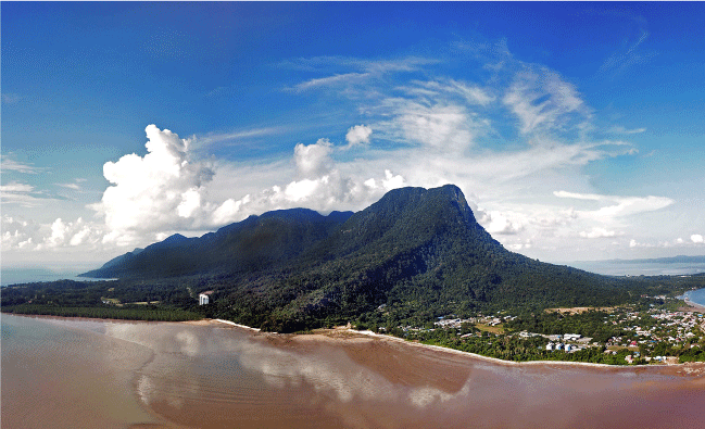 Mount Santubong National Park – Spanning an area of 1,410 hectares comprising the upper rim of this majestic mountainous peninsula, Mount Santubong National Park was gazetted on 28 February 2007.
Numerous jungle trails starting from the main road afford visitors wonderful nature walks complete with waterfalls, gargantuan trees and interesting wildlife. These trails join the main route that leads up to the 810m summit, a challenging 3 to 5 hours return trek.
Buntal Fishing Village – Located 4 km from The Village House, Buntal is a typical Malay Fishing Village. Take a leisurely wander around the quaint village and enjoy the bounty of our seas at the many seafood restaurants dotting the village.
Buntal Village faces the Bako-Buntal Bay, one of Malaysia's most important sites for migratory waterbirds. Recent survey recorded a total of 61 species of 15 families with a single day with a maximum count of 5,363 birds. The site supports 13% of the world's entire population of the endangered Chinese Egret, Egretta Eulophotes, and thousands of Sandpipers, Plovers, Knots and Stints.
Pasir Panjang & Pasir Pandak Villages – Pasir Panjang boasts the best beach around the Santubong Peninsula. Located approximately 15km from The Village House towards Kuching City, it is a hotspot for weekend holiday makers but remains quiet on working weekdays.
Adjacent to this pretty cove is another quaint fishing village, Pasir Pandak where residents still eke out their living from the sea. An interesting time to visit is from mid afternoon when these fishermen head back to shore with their catches.